Solid Surface Countertops Vs Quartz Countertops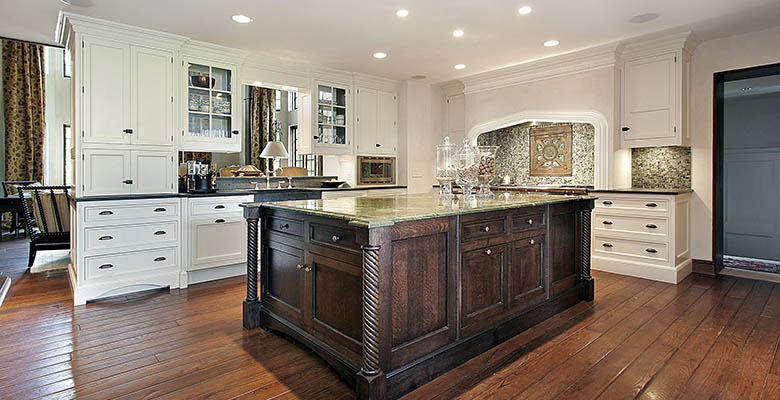 There is a variety of kitchen countertops you can choose from. Be it granite, quartz, solid stone, soapstone, limestone, etc. Today, we will be discussing the differences between solid surface and quartz kitchen tops.
What Is the Difference Between Solid Surface and Quartz Countertops?
Here are some of the differences between solid surface countertops and quartz countertops.
Solid Surface Countertops
Solid surface countertops are better known as Corian, a brand which is well-known for making countertops out of acrylics.
Solid Surface Countertops Are Man-Made
Solid surface countertops are manmade. They are made of acrylics or polyester. Solid surfaces are made from different plastic blends, which gives it a smooth surface. Solid surface countertops are also made of marble dust, mixed with plastic or resins. It is a good choice of countertop material, because it is low maintenance and it is very easy to clean as well.
Solid Countertops Are Smooth
Solid surface countertops, because they are man-made, have a smooth surface on the top. It is extremely easy to clean and there is no fuss in wiping it down. It is very low-maintenance and it can be simply cleaned with a wet paper towel and a cleaning solution.
Solid Surface Countertops Are Scratch Resistant
Solid surfaces are also scratch resistant. Because they are made of marble dust and other minerals, mixed with plastic, it makes up for a perfect scratch proof material. If you want, you can laminate the solid surface as well. lamination makes the solid surface smooth and it protects the countertop from further damage, due to spilling of liquids and any sort of impact on the surface.
Solid Surface Countertops Don't Have Seams
The main reason why solid surface countertops are amazing for the kitchen and the reason why a lot of people like to go for solid surfaces, is that it leaves no seams. It can be cut into many shapes and blocks, but once stuck together as a countertop, it will not leave any sort of separation or seam. A lot of people are bothered by seams, but solid surfaces make the countertop look almost seamless. Usually, natural stones, like granite countertops, will be full of seams and it can be very difficult to conceal, but this is not the case with solid surface countertops.
Quartz Countertops
Quartz countertops have the following specifications and qualities.
Quartz Is Also Man-Made
Neither quartz nor solid surface a natural stone. Both are man-made. Quartz countertops are made with natural quartz stone, which is grounded up, and the remaining part is filled with resins which makes the countertop bind and stay put. Quartz is a beautiful countertop choice and it is frequently seen in kitchens and bathrooms, because of its light and muted colors and its lustrous appearance.
Quartz Is Less Expensive
Quartz stone is considered to be a less expensive alternative to natural stone. Quartz has a striking resemblance to a lot of natural stones out in the market, but it is less expensive than the natural stone as well, which is why a lot of people prefer quartz countertops over natural stone countertops. It is, however, more expensive than laminate, wood or acrylic countertops. Quartz also lasts for a long time, if maintained properly. Quartz countertops are the choice of a lot of people, who want a natural stone look to their countertops, but they don't want to spend the extra money on it.
Quartz Is Tougher Than Natural Stone
Quartz is one of the toughest materials on earth. This is the reason why quartz is the strongest man-made countertop material. It doesn't chip or crack on the sides easily and it is excellent for places where there are a lot of children. quartz can bear huge loads of impact as well, which makes it longer lasting than most of its other counterparts. It is also non-porous, which means that you don't have to seal the surface in order to stop liquid settlement and damage from cracking.
There you have it! All of the differences between solid surface and quartz kitchen countertops Centreville. Now you can decide which one you want for your kitchen and other rooms. However, if you want to go for natural stones such as granite and marble, you may need to seal them.