6 Kitchen Remodeling Secrets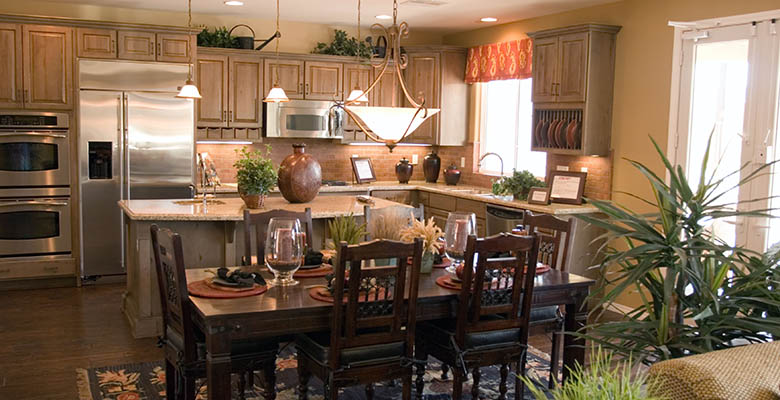 A kitchen renovation spree essentially combines both form and function together. That being said, there are many effective and breathtaking ideas to revamp the kitchen and create a new look at a fraction of the cost such as cabinets and countertop replacement, light fixtures, and flooring.
Are you ready to give your kitchen a new update? Well, in this guide, we have a list of some essential and cost effective tips that will make your kitchen the most envious spot of your entire house.
Let's start with some great tips that are coming from our reputed and skilled kitchen design team experts.
Start Out By Picking A General Theme For Your Kitchen
Before going ahead with the renovations, I highly recommend brainstorming a specific kitchen design in your mind on how you want the kitchen to end up like. Are you looking for a modern minimalistic kitchen style that exudes elegance and simplicity, or are you looking for a colorful, catchy vibe to your kitchen adorned with several accessories and appliances. Creating a simple layout of what you would like to achieve as an end goal is extremely important when you decide on the other renovations.
Renew The Cabinets
If you instantly want to uplift the whole look of your kitchen, then changing out the kitchen cabinets can be an extremely rewarding renovation. There are several options you can choose from, including laminated and wooden cabinets. You can also choose the colors from a wide color palette that compliments your kitchen theme.
If you're short on budget, just go ahead and change the knobs of the cabinets. A simple step can instantly revive your kitchen space. If you have an ample budget, I highly recommend investing into ceiling high cabinets. This is a great idea for home owners working with smaller kitchen spaces. Not only will this create the illusion of a much larger space, as the high cabinets draw the eyes upwards, it also levels up as an additional storage option for utensils, storing appliances and other less used items.
Renovate The Sink Area
When it comes to the sink area, merely changing up the faucets and installing a new sink is the best you can do within budget. Try going for a brand new stainless steel or bronze faucet with sleek edges and all the detailing that makes it more expensive than it actually is. For the sink, think hard on what kind of size and how many basins would you want for your family size. This one is pretty self-explanatory.
Decongest The Kitchen
Merely moving up a few things here and there can make all the difference. I can't debate on the kind of styles that are timeless, but a minimalistic and decluttered kitchen will always stand out from others. Start by sorting out your accessories and appliances. Think of the ones that you don't use at all and are taking up massive amounts of space and adding to the clutter. Donate a few pieces and store the rest away from the counter space to let your kitchen breathe.
Install New Countertops
This tip is perhaps the most helpful out of all that will make a huge difference to the outlook of your kitchen. A cheaper alternative would be laminate countertops, but I would recommend investing in a much more timeless option such as granite, marble or quartz countertops. These tops not only impart elegance and sheen to your overall kitchen persona, they are also value added renovations that increase the value of your house when you go for selling or renting your space out.
Light Up Your Space
Merely switching up the lighting fixtures of the kitchen can do so much for your space. For starters, you can replace the fixed ceiling light options and invest in a modern crafted chandelier. You can install LED lighting options as well, and have them placed at the cabinets, or as a way to light up the feature wall. A well-lighted kitchen area can add character and form to your kitchen space and create the illusion of a bright open room.
In a nutshell, kitchen renovations don't need elaborate budgets and expensive designers to take place. Just a little attention to the details and updating a few spaces here and there can do wonders for your kitchen. Get in contact with granite countertop installers Raleigh NC for new countertops and a woodworking company for cabinets and other fixtures.